When You Customize Your Garage Door, You Customize The Total Cost!
You may not know the cost of replacing a garage door until you've shopped for a specific part like garage door windows, struts, hinges, or new garage door panels given the design you currently have or wish to change. Searching for a whole new operating system opens up a plethora of design and customization options. But how much customizing will drive up the cost of garage door installation? Have you driven through the Greater Phoenix area, and looked at what the main city or the smaller suburbs have on display? 
As you explore potential styling, color, and material possibilities on our virtual Door Builder, you can see real-life examples throughout your local Metro neighborhood. Can you figure which garage doors are the most expensive and which are the most affordable? This article will cover the factors that contribute to the total cost of garage door installation. 
Choose Your Type of Door
Perhaps the ultimate contributor to an expensive garage door versus a cheaper garage door is the material you choose. Consider the texture, color, and thickness you want for your door's construction. Additional layers of insulation, and layers of steel, wood, or other materials all contribute to a grander price tag. 
Sectional Garage Doors
Sectional garage doors are the standard with 4 panels as the most affordable garage door option. You can opt for a single panel, raised, recessed, ribbed panels (for a multiple panel effect), or flushed panels for a "no panel" effect. 
Single-Layer Steel Garage Door
Garage doors composed of durable steel material are perfect for continuous operation for any home or business owner. When you choose a single layer, you forgo insulation and additional durability options that many manufacturers include. If you're trying to save money on installation costs, choose a single-layer garage door. 
Double Steel Sectional Garage Door
Doubling– or tripling!– garage door insulation layers significantly increase the cost of garage door installation. Pack on thermal insulation made of polystyrene behind a single layer of steel to equal a double-layer, or you can make a sandwich of insulation layers with a triple-layer steel garage door. However, the energy savings and noise canceling benefits will counterbalance the upfront costs for a double steel sectional garage door.
Double-Wide Garage Door
Essentially two doors in one, some homes in the Greater Phoenix area are set up with a double-wide garage door. Instead of a separating column, the space that a double-wide garage door grants for parking and clearance possibilities makes this type of door attractive. Double-wide garage doors are heavier, resulting in bigger, more expensive springs to counterbalance the weight. We also recommend a compatible and mighty garage door opener to also help lift and close your door without difficulty.
Glass garage doors are considered a luxury garage door installation because they instantly elevate any space to a more chic, modern version of your current structure. Despite the notion that glass for a garage door means they're fragile and extremely susceptible to damage, glass material for your garage door is actually one of the most durable!
We love to recommend Clopay's Avante collection for the most sturdy glass garage door. Combined with their top-tier product and our expert knowledge for prompt installation, we can help you find the right glass garage door for you.
Fully Custom Garage Doors
Perhaps you have the financial freedom to choose every element of your garage door. Since you know garage doors are extremely customizable, there are endless options to choose from!
Some custom garage door installations to consider for your Phoenix, AZ home or business include:
Frameless garage doors
Custom faux wood garage doors
Single panel, lift-up garage doors
Measure The Size of Your Door
On the other hand, there are many factors that will help you save money. The most common size of doors are 7-feet high and either 16 or 18 feet wide. If you just need a traditional garage door affixed to your single or two car garage door size, Iconic Garage Door Services has specials on your new garage door installation!  
As discussed above, we can customize your garage door opening to accommodate any golf cart, RV, or camper storage that would require a small 6-foot tall garage or a large 20-foot door opening. Any custom measurements outside of the standard garage door size will affect the cost of garage door installation.
How To Save On a New Garage Door Replacement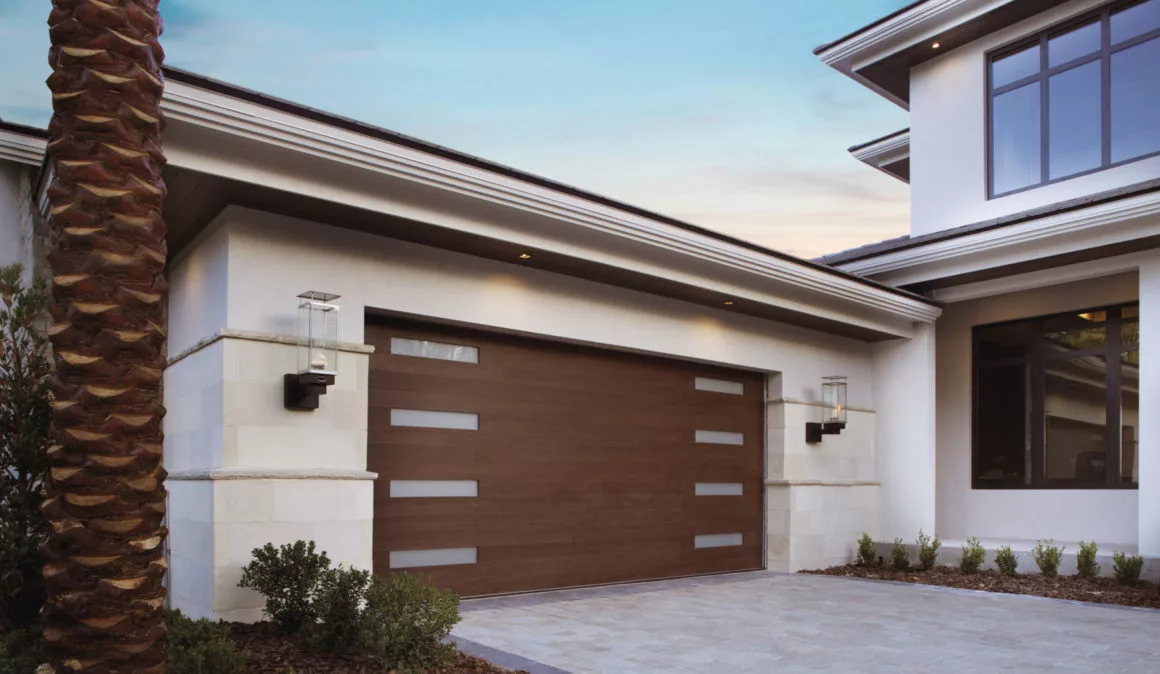 The features of the door also affect garage door cost, and it's important to choose wisely since there are boundless possibilities for style and design. This includes decorative hardware such as different metal handles and hinge options. You can also add window options if you wish for natural light. Each manufacturer of garage doors has restrictions on sizes, features, and styles, but we can order one custom built to your specifications. 
* Iconic Pro Tip: To help you save on a new garage door replacement, you will have to make decisions based on efficiency versus aesthetics. For instance, if adding garage door windows are important to you, you will have to configure their placement, thickness, tint, and shape (i.e. making sure you don't place windows where onlookers can see if you're home or not).
Customize Your Cost of Garage door installation With Our Iconic Experts
Are you interested in a new garage door installation? Talk to our professionals about your garage door budget. Whatever your budget allows, an expensive garage door versus a cheaper garage door is completely up to you! Talk to one of our garage door service professionals about your options in creating a custom entryway, garage door, or other specialty service. We will talk with you in length about what elements are most important to you, and how to balance the cost of garage door installation. We also offer installation and repair discounts, so you can better balance the cost of your garage door. Among our garage door installation specialties, our professionals will make sure you experience nothing less than Iconic! Contact us today to get started on your new standard or custom door!